What's so special about a Lamborghini? Is it the driving experience that makes you feel as if you are locking horns with a bull? Or the fact that they look like futuristic stealth jets that make you feel as if you have traveled into the future! Whatever, the reason for their awesomeness, we know there isn't anyone out there who wouldn't like to sell car in Dubai and buy a Lamborghini instead? And just in case you're willing to go that extra mile, CarSwitch.com can help you do it hassle free!
And now with the launch of the Lamborghini Aventador SVJ, there are even more reasons to own a Lamborghini. The Lamborghini SVJ is a faster, more powerful version of the Aventador. A few changes have been made to spice it up such as adding more power and designing better aerodynamics. There are small changes in the exterior as well to make way for the better aerodynamics and cooling systems. These minor trims are, however, more than enough to set the model apart from the previous Aventadors.
It has a 6.5 litre, V-12 engine, but is better and more powerful than its predecessor's. It has a collosal power of 770 hp with a 720 Nm torque. This burst of energy is enough to transform the Aventador into full beast mode from 0-100 kph in 2.8 seconds. The SVJ can reach maximum speeds of 350 kph.
Changes have been made in the position of the flaps and other aerodynamic parts of the car to adjust the drag, to make the second generation Aerodinamica Lamborghini Attiva (ALA) more aerodynamic. The system can switch on the flap in 500 milliseconds. By adjusting the flap orientation on both sides, it provides better traction.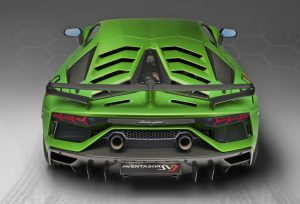 Another cool feature of the Aventador SVJ is the retractable divider that separates the engine compartment from the passenger compartment. You can turn on the small switch in the divider and hear the full sound and fury of the 6.5 litre, V-12 engine! We highly recommend this! Oh, wouldn't it be great to sell car in Dubai and buy this fierce bull instead?!
As of now, only 963 models of Aventador will be built and 63 of them will be a limited edition model! You can grab yours before they sell out! At CarSwitch.com, both buying and selling is an easy, hassle-free process!