Bugatti Divo is hypercar worth $5.8 million, whoa! Even if you sell your car, you might not be able to afford this masterpiece. This jaw-dropping Bugatti is not just any Bugatti, it's a distinguished one. CarSwitch.com gives you some cool facts on this one of a kind ride.
1.Total units produced
Only 40 units of the Divo have been produced for sale which would explain its hefty cost. It certainly is one the most exquisite cars in the world at this time.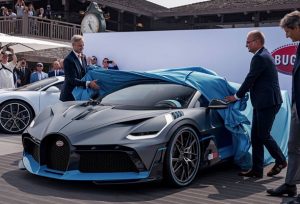 2.Total units sold
Fans of supercars and hypercars, if you're thinking to sell your car and go for this exclusive Bugatti, that might not be possible. Why? Because surprisingly Bugatti has sold all the units to people who were already ready to pay for it.
3. Chiron vs. Divo
Divo has a humongous downforce of 1,005 lbs which means an extra 198 lbs compared to Chiron. What even more amazing is that it is 77 lbs. Lighter than Chiron. Bugatti designers are certainly on a roll.
4. Top Speed
Even though, Divo has a top speed limited to 236 mph compared to the 261 mph of Chiron, its lighter weight allows it to go 0.1 seconds faster in 0 to 60 mph. It will be the fastest street legal car to exist.
5. Handling
The Divo is considered to be the most agile car ever produced according to the automaker. It is literally build for corners due to its optimal handling performance.
6. Name
The Divo is named after Albert Divo, who won the Targo Floria twice while driving Bugatti type 35B and Type 35C.
This gorgeous beast is hard to digest, no? Sadly, you might not be able to see it among used cars Dubai anytime soon. Though, the competition between Bugatti Devo and the successor of Ferrari LaFerrari will be a sight to behold!
Till then, if you plan to sell your car and switch to a quicker or more handsome ride, CarSwitch.com is happy to assist you!