Ford has been preparing aviation themed cars for auction at the Experimental Aircraft Association (EAA) which has been held in Wisconsin, USA for the past 11 years. These amazing cars might never end up among used cars Dubai but are a sight to behold. CarSwitch.com lists Ford cars auctioned in the past 7 years which will leave you in awe.
1.2012 Ford Mustang Red Tails Edition
Auction price: $370,000
Paying tribute to the popular Tuskegee men who fought in World War II, the magnificent design of this car was inspired by the P-51 Mustang Fighter plane. What makes it stand out are its red and yellow stripes and a robust V8 under its hood.
2. 2013 US Air Force Thunderbirds Edition
Auction price: 398,000
On account of the 60th Anniversary of the famous Thunderbirds aerial acrobatic team, Ford made this customized ride aligned with the Thunderbirds design. This one-off ride came with 22-inch Forgiato wheels, Recaro seats, unique sill plates, supercharged engine and so much more. It surely might have been one of a kind if it was listed in used Fords for sale.
3. 2014 Ford Mustang Lockheed Martin F-35 Lightning II Edition
Auction price: $200,000
As the name suggests, this personalized Mustang with a matte grey titanium paint with blue and yellow element was influenced by the Lockheed Martin F-35 Lighting II. It had a front splitter made out of carbon fiber as well as its side sills and rear diffuser.
4. Ford Mustang Apollo Edition
Auction price: $230,000
Ford paid a tribute to the Apollo Science Program in 2015 by creating this masterpiece. Painted in white and black with both matte and gloss black details, this custom-made vehicle also has carbon fiber front splitter, rear diffuser and side sills.
5. 2016 Ford Shelby GT350 Ole Yeller Edition
Auction price: $295,000
Inspired by the P51D Mustang plane which was recorded as the fastest prop plane to go from coast to coast, the 2016 customized Shelby was painted by a vibrant yellow with black details. This awesome ride had special neon underbody lighting along with a V8 engine under the hood.
6. 2017 Ford F22 Raptor F-150
Auction price: $300,000
For 2017, Ford chose a F-150 instead of a Mustang designed on the theme of the F-22 fighter jet. With the use of grey and red tones on a black body, this Raptor was a stunning one off pick up.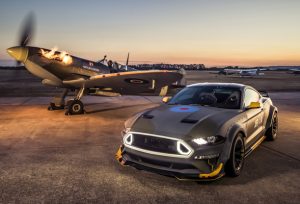 7. 2018 Eagle Squadron Mustang GT
Auction price: $420,000
Surely, one of a kind custom ride which would surely have been a hit among used cars Dubai. The 2018 Mustang auctioned by the EAA was themed according to the Eagle Squadron P-51 Mustangs. Pushing out 700hp, the Mustang can be considered one of the coolest Mustangs there is.
These awesome Fords might not be available in Dubai but you can always customize your regular car to look like one.
Car buffs will love to collect each one of them, only if they were available in used cars Dubai.  Visit CarSwitch.com if you're looking to buy a pre-inspected and pre-owned Mustang.